Linda released 14 albums from 1977 to 2015, publishing them as vinyl, cassette, and CD.
Purchasing Linda's Music:
We're working to make all titles available for streaming and as downloads. As each title becomes available, we'll add purchase links for Spotify and Apple Music beside its description. At that point, it should also be available on many other music download services. For up-to-date listings of Linda's available albums on Spotify and Apple Music, click these icons:



To buy albums or songs from iTunes, install and open the iTunes app on your device and search for "Linda Waterfall."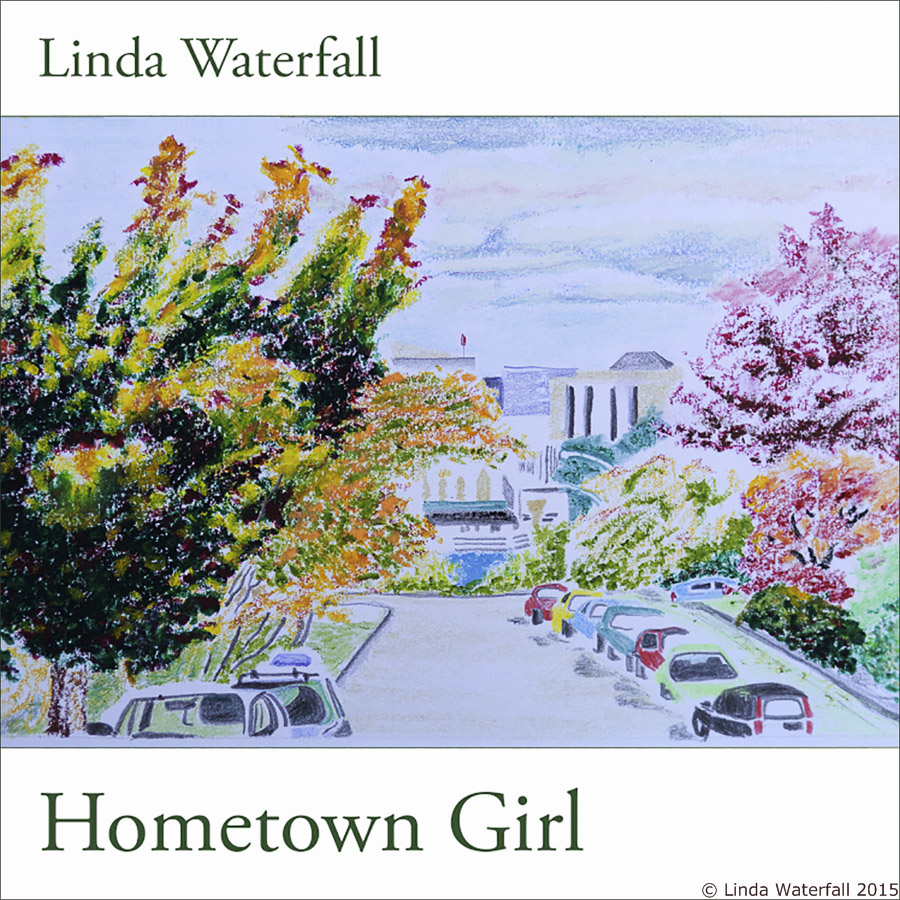 HOMETOWN GIRL(Franklin Point Music 2015)
"Hometown Girl" is a love song to my adopted home town, Seattle, and the music community here.
"The River (Jim's Song)" was written for the Bushwick Book Club. The book was Huckleberry Finn; I wrote the song from the point of view of Jim, the runaway slave. "Play Now" is a song encouraging artists to create and take risks—I'd encourage the listener to note the way the guitar part has its own voice, and how the voice and guitar interact.
I fell in love with "Come Together" as I worked on this arrangement; the guitar's role develops as the song progresses, and kind of "takes over." "I Don't Want to Get Dressed" is a whimsical, true statement, with some fun melody/chord exploration.
My solo guitar arrangement of "We Shall Overcome" is a prayer for the evolution of humanity, that we learn to share: share with each other, and share the planet fairly with all the other creatures who live here with us. I wrote "Neighbor Day" in early September—a new holiday, celebrating my deep appreciation for my friends and neighbors.
The two songs, "Katie Cruel" and "Song for Jane," I think of as a pair: Two women from past centuries, both facing a world that oppresses women, both finding a way to tell their story. "Song for Jane" was written for a Bushwick Club concert; the subject was Jane Austen's Pride and Prejudice. "Mama Elk Calls" is a spirit-sound-journey; wordless, because there are no words.
In "Volcano," I would encourage the listener to notice the different uses of the ascending scale-steps as a compositional device. I always feel that I only partially "write" a song—much of it flows through me, like I'm an antenna. That is especially true of "Volcano;" writing it was an experience of storm, tension, and explosion, weaving together many strands: personal evolution, desire, restraint, the pain and exhilaration of creating, and the willingness to "surrender to the force of life."
View Tracklist

Hometown Girl

The River (Jim's Song)
Play Now

Come Together

I Don't Want to Get Dressed
We Shall Overcome
Neighbor Day
Katie Cruel
Song for Jane (For Jane Austen)

Mama Elk Calls
Volcano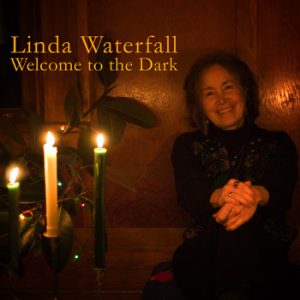 WELCOME TO THE DARK
(Trout 2009)
"Welcome to the Dark" is the oldest song in this group; I began it in 1999, and it "found its home" in this project. "I'm Here" was also begun a long time ago; a very unusual chord progression which meanders through many key changes. When I first started working on it, I felt "blocked" at a certain point in the chord progressions. This year, for some mysterious reason, it all came together. "Calling the Spirits" began with the rhythm the ferry makes as the metallic body resonates the engine rotation, and developed through the addition of harmonic overtone singing and meditation practice. "Fishing for Kisses"—an unabashedly sentimental love song. "Shu Yang You"—I leave for the reader to puzzle over! I think of "Way of Beauty" and "Fly, Hawk, Fly" as somehow resembling my prayers for our healing, all of us, and the planet.
View Tracklist

Welcome to the Dark

I'm Here

Calling the Spirits
Fishing for Kisses

Shu Yang You
Way of Beauty
Fly, Hawk, Fly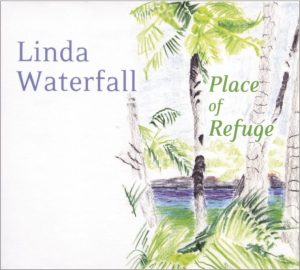 PLACE OF REFUGE
(Trout 2006)
These solo performances were recorded in Richard Scholtz's studio in Bellingham, using David Jennings microphones. It was all recorded live, with no overdubs or edits, and it's what I sound like playing "in your living room." There are six new original songs, six traditional songs, (my arrangements) and the Beatles' "I'm Only Sleeping", reincarnated as a samba. "Place of Refuge" came to me in an overwhelming spiritual rush which lasted almost the entire three weeks I was on the Big Island of Hawaii in January 2006. "Reaching Out for Life", written during my recovery from cancer treatment, is something I would like to share with everyone who has faced serious illness.
View Tracklist

Place of Refuge
Capacitor
The Prodigal Son
The Word of the Prophet
A Little Flash of Light
Let All Mortal Flesh Keep Silence
I'm Only Sleeping
Cielito Lindo
Se de NocheVez que Brillan
The Carpenter

Lewiston Factory Girls
Ponderosa Pine
Reaching Out For Life Reaching Out for Life
To buy albums or songs from iTunes, install and open the iTunes app on your device and search for "Linda Waterfall."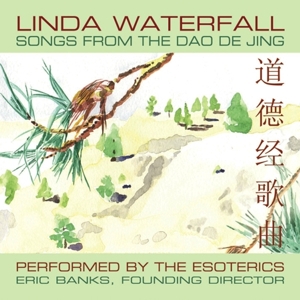 SONGS FROM THE DAO DE JING
(Trout 2004)
This ancient Chinese spiritual text, the Dao De Jing, has been my companion since I was in my early 20's. Studying it in the original Chinese inspired me to choose some of my favorite verses and give them choral settings. The text is half in English, half in Mandarin, and the style is somewhat in the flavor of a folk choir, which is a popular vocal form in mainland China. A stellar performance by the Esoterics and the instrumentalists, including Warren and Ting Ting Chang playing erhu and gaohu.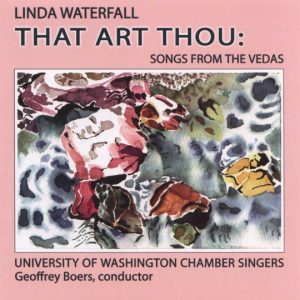 THAT ART THOU: SONGS FROM THE VEDAS
(Trout 2002)
These pieces, selected from the Rig Veda and the Upanishads, are some of my favorites. The "Creation Hymn" features the timpani and percussion, and is highly rhythmic. The second movement begins with passages that came to me as Bob and I were canoeing at the mouth of the Stehekin River — I heard voices murmuring the melodies, coming from the trees as they moved in the wind. The third and fourth movements are dreamlike and meditative, and the final movement is the joyful dialogue between Svetaketu and his father, describing the oneness of all Beings in a series of unforgettable metaphors.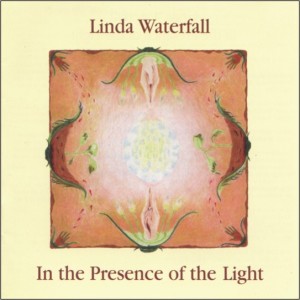 IN THE PRESENCE OF THE LIGHT
(Trout 1998)
Harmonic overtone singing (myself, multi-tracked) introduces "Drawing Down the Moon". "Reception" features Hans Teuber playing saxophone, and "Cool Touch", a vocal trio with Arni Adler and Gina Sala. This recording includes two guitar instrumentals, and the last four songs were composed (for a Seattle Arts Commission grant) using Walt Whitman's poetry as text.
View Tracklist

Drawing Down the Moon
Reception
Cool Touch
In the Presence of the Light
Kalalau
Escape Velocity
Waiting for Your Luck to Change
Mango Mouth
Leaves of Grass:
Press Close, Bare Bosom'd Night
I Bequeath Myself to the Dirt
You Lingering Sparse Leaves
Allons, the Road is Before Us
To buy albums or songs from iTunes, install and open the iTunes app on your device and search for "Linda Waterfall."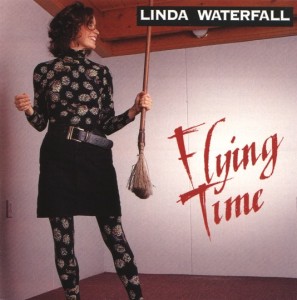 FLYING TIME
(Trout 1994)
"Love Out of Nowhere" began its journey with me when I was camping out in Zion National Park – as did "I Need to Know", which came from the experience of hiking up the Narrows of Zion Canyon. "Flying Time" features a duet with me and Ed Johnson; it's always such a treat to sing with him — also, singing "Tree" with Arni Adler, Kim Scanlon and Gina Sala — wow! The imagery in "Balance" was born boulder-hopping across streams, on the hiking trails of the Olympic Peninsula; more hiking imagery appears in "Climbing to the High Country". "For the Moment" opens and closes with Cary Black's breathtaking bass solos.
View Tracklist

Love out of Nowhere

Mother's Love
Piece of Stone
Away Ye Merry Lassies
Flying Time
For the Moment
I Need to Know
Tree
Climbing to the High Country
Om Kara Shiva
Balance
To buy albums or songs from iTunes, install and open the iTunes app on your device and search for "Linda Waterfall."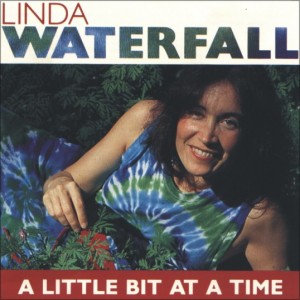 A LITTLE BIT AT A TIME
(Flying Fish 1991)
My second recording for Flying Fish. Even after all these years, I still get a big kick out of playing "Low Rider" and remembering my teaching years in Washington State's Artist in Residence Program. (Those wonderful times at El Ranchito in Zillah!) "I Like to Look at You" features one of my favorite vocal arrangements.
View Tracklist

Low Rider
I Like to Look at You
Love Your Mother Earth
Something That We Already Know
A Little Bit at a Time
Mirage
Coconut Milk
I'll Take Care of You Tonight
Twice As Shy
Make It Your Own Idea
To buy albums or songs from iTunes, install and open the iTunes app on your device and search for "Linda Waterfall."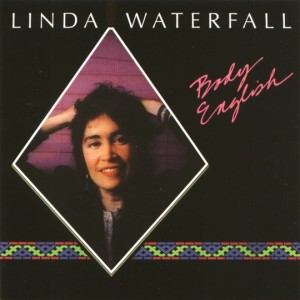 BODY ENGLISH
(Flying Fish 1987, Trout 2005)
My first recording for Flying Fish Records, and bless the memory of Bruce Kaplan. This collection of songs surfaced after a period of silence, intense depression and self-doubt. I had been touring a lot, and gotten seriously burned out. I didn't know if I would continue to make music or not. When the songs started coming again , I was amazed, and am still amazed, by the growth and transformation. This recording contains some of my most inventive voice/instrument duet work, as in "Run It Like a Business", "Closer to Me", and "Waves". It also contains the first Walt Whitman song, "Leaves of Grass", which was the seed for the other four appearing on "In the Presence of the Light."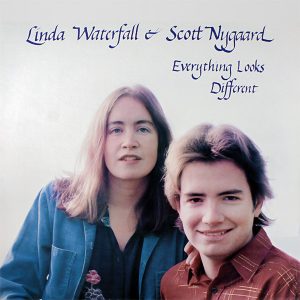 EVERYTHING LOOKS DIFFERENT
(Vinyl,
Trout 1983 with Scott Nygaard)
Scott and I collaborated and toured together for two years. This album contains some of our mutual inspirations- -like the guitar work in "April 22nd" and Scott's beautiful improvisations on "Song Like a Roar". A lot of people still ask to hear "Raspberries", which is amazing, since the album is only available on vinyl, and has been virtually "out of print" for a long time. Those fruit metaphors I'm so fond of seem to have a lot of staying power.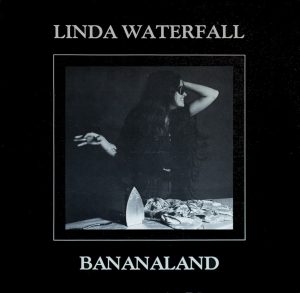 BANANALAND
(Vinyl,
Trout 1981)
Me and my band mates—Donnie Teesdale, Greg Pecknold and Dudley Hill—played the bars for a year or so. We rode the Alaska State Ferry up to a club in Petersburg, Alaska, where we played six nights a week for five weeks straight, and then took these songs right into the studio. What a dream band we had. I'm lucky I got to experience it, there's nothing quite like it, being that "tight" from playing so much together with such great players. I love these songs, and we also had some great stories to tell about those years.
View Tracklist

Bananaland
Out to Lunch
That's All I Need
Comin' Across the Blues
Stand Up to You
Wyoming Boys
Poison Arrow
Eye of the Cyclone
My Heart is Gonna Break
I Saw Him Go
Long Hard Road
To buy albums or songs from iTunes, install and open the iTunes app on your device and search for "Linda Waterfall."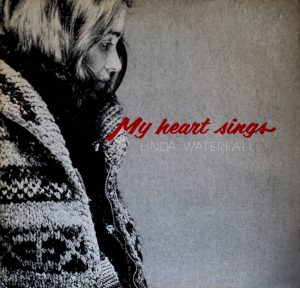 MY HEART SINGS
(Vinyl,
Trout 1979)
Manny Hadlock, co-owner of Bear Creek Studio where this was recorded, said "You should call this album 'Crazy Quilt', because there are so many different patterns and styles!" Tom Corddry (remember KZAM? What a great radio station!) made a similar observation, remarking that I was like a new fledgling, flexing my musical muscles in a dozen different ways. Everything from a rock tune, a jazz tune, a folk tune, and a short choral piece that became the seed for my first choral music grant from the Seattle Arts Commission. (La Cigale et la Fourmi, performed by the Seattle Chamber Singers in 1984)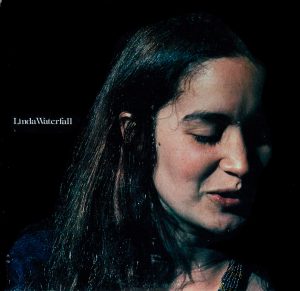 MARY'S GARDEN
(
Vinyl,
Trout 1977)
My first solo album, originally released by Windham Hill Records. Special thanks to William Ackerman, my old school buddy from Stanford, who offered to put out my first album and bring me into the music business. Some day soon I want to re-release this recording on CD. This collection of songs is very close to my heart. It cherishes special people I loved very much, who cared for me and started me on my path through life.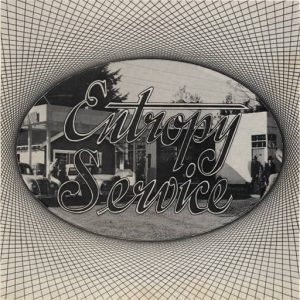 ENTROPY SERVICE
(
Vinyl,
1974)
Entropy Service was my first band, and what a band. Working with Peter Langston, J.B. White, Judith Cook-Tucker, and (later) Sharyle Patton was exciting, stimulating, continuously creative, total chaos and irresponsibility with no clue about business whatsoever! Gosh, what fun! Peter and J.B. taught me so much about being onstage. I love these four songs.
A full length Entropy Service CD is available through Peter Langston's homepage www.langston.com/cat where you'll find Entropy Service '75 Live! (CAT-111). It contains songs recorded at two very lively Boston area performances late in 1975.
View Tracklist

Give It a Try (J. White)
Rainin' All Day Feelings (J. Cook)
Over the Mountain (L. Waterfall)
Songs to Myself (P. Langston)