Linda Waterfall has been named "Seattle's Top Singer-Songwriter" by the Seattle Times, the Seattle Weekly, the Rocket, and the KZAM Arts and Entertainment Poll.
Linda grew up in a musical family, with early training in classical piano, music theory, composition and voice. Her songs reflect both classical training and many popular influences including folk, jazz, blues, rock and world music.
A highly accomplished guitarist and pianist, she tours as a solo musician, composes choral and vocal music, and works in the studio as both a recording producer and session musician. She taught songwriting for 15 years through the Washington State Arts Commission, and was songwriting instructor at Cornish College of the Arts from 2005-2012.
About Linda Waterfall's music, Tony May wrote in the London publication Folk Roots: "Totally refreshing and invigorating. The music's soaked in classical influences…draws together rock, pop, jazz and folk elements into a label-defying synthesis. Linda's instrumental prowess elicits the use of superlatives."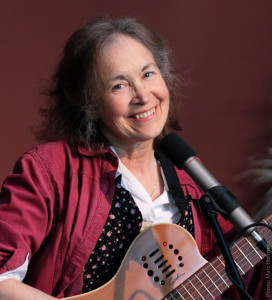 A note from Linda…
September, 2015 I am celebrating the release of my 13th recording, "Hometown Girl". My last CD, "Welcome to the Dark", was released in 2009. Since then, I have been writing, composing choral music, and devoting time to visual art.
For this newest CD, I had a lot of songs to choose from, and I picked the ones closest to my heart. I encourage you to listen to the music samples and pick up a copy.
If, by chance, you bought a copy of Welcome to the Dark, you might want to hold on to it. It was a limited edition, and we've sold out.Thanks for visiting!
—Linda Waterfall
PS: Last but not least—check out the calendar! I have started playing out again, and that is really exciting. 
Listen to "Play Now," from Linda's latest CD,
Hometown Girl
:
Play Now